Huawei Connect "Smart Cities" have been heavily promoted by tech giants like IBM, and the idea excites the pulse of fad-chasing technocrats and wonks.
Huawei has also heavily promoted the vision, and the commercial logic to do so is sound. It is clearly hoping to shift its high end network management gear into a market where the customers are poorer, but less fickle, than in the private sector. Huawei has a wide breadth technology – from SDNs to a lightweight, low latency open source OS for sensors.
Jo So, CTO of industry solutions at Huawei's Enterprise Business Group, provided an update at the company's Connect event in Shanghai this week. He said there were over 100 implementations under the Smart Cities programme. But what I was learned was that despite – or perhaps, because of – Smart Cities' utopian intentions, the vision only really seems to being put into practice by authoritarian city-state strongmen.
There are 3,000 APIs in Huawei's "smart cities" API, said Mr So, but no prescriptive platform. "It's a concept, not solutions," he said.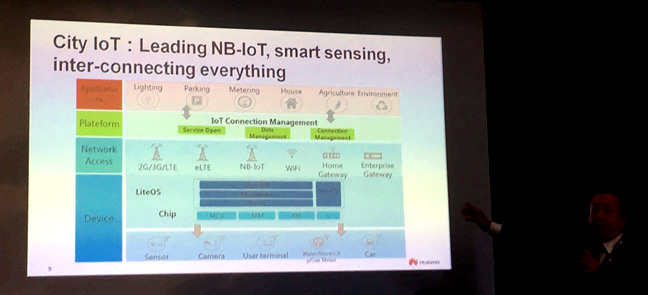 Huawei's Smart Cities vision thing
In the utopian bit comes from co-mingling data silos like er, … your personal medical information, and location data. Starting to feel creepy yet? You will.
Smart Cities involve the "Re-engineering of society's operation by offering more services, lower cost, more inclusive public services, more convenient living, more efficient governance," said Mr So.
But many of the examples were really just customer wins from the networking division. Better managed networks across a campus or city, where in some cases sensor data was being collected. The most ambitious implementations came from Singapore and China.
Read more at: http://www.theregister.co.uk/2016/09/02/smart_cities_huawei/