It may be a no-brainer that Mumbai tops the list of 21 Indian cities in a latest nationwide survey, but what is interesting is the cities that follow — or do not follow. Thiruvananthapuram shares the top spot with Mumbai, followed by Kolkata and Pune.
Chandigarh, often hailed as India's most planned urban landscape, comes last in the third edition of the Annual Survey of India's City-Systems (ASICS).
The survey, conducted by Janaagraha Centre for Citizenship and Democracy, highlights systemic inadequacies in urban governance and is based on "actual governance", and not popular perception. Based on 83 parameters, the survey ranks these cities on a scale of zero to 10, with all cities remaining under 5 in overall score, and only a few going past the halfway mark in different parameters, such as urban planning, urban capacities and resources, empowered and legitimate political representation, and transparency, accountability and participation.
While Mumbai and Thiruvananthapuram score 4.2, and Kolkata-Pune 4.1, Chandigarh scores the lowest — 2. Delhi finishes with 3.7, tied with Bhopal.
The global benchmarks for the survey are New York (9.7) and London (9.4).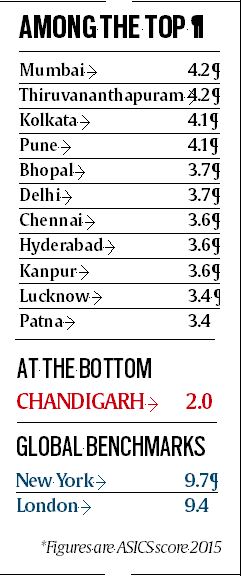 Read more at : http://indianexpress.com/article/india/india-news-india/in-smart-city-times-survey-holds-up-a-mirror-cities-grossly-under-prepared/